Sign up for the GI Daily here to get the biggest news straight to your inbox
It's been six years since we last spoke to Square Enix Collective, the indie publishing arm of the Final Fantasy company.
We've just not heard from them. Which is quite surprising when you consider how much we write about indie publishing, plus the fact that the Collective was started by former GamesIndustry.biz editor and publisher Phil Elliott.
Candidly, a few of us may have assumed the division was coming to a natural end. We've seen big companies launch publishing labels, and then scale them back or quietly close them. Sometimes because they've served their purpose, and other times because priorities have changed. Remember Activision Blizzard's Sierra publishing label? Or GameStop's GameTrust? Or Sega Searchlight?
And in 2022, Battalion 1944 developer Bulkhead – one of the Collective's early success stories – cut ties with the company. Then earlier this year, Elliott left to become CEO of Modern Wolf.
But we weren't looking closely enough. Because it turns out that not only is Square Enix Collective alive and kicking, but it's responsible for publishing the hit indie game PowerWash Simulator, which has racked up over seven million players. We knew about Futurlab's hit game, of course, but we hadn't realised that Square Enix had handled the publishing.
"I'm not surprised," said Timea Edvi, director of indie publishing at Square Enix, who took over the role vacated by Elliott in February.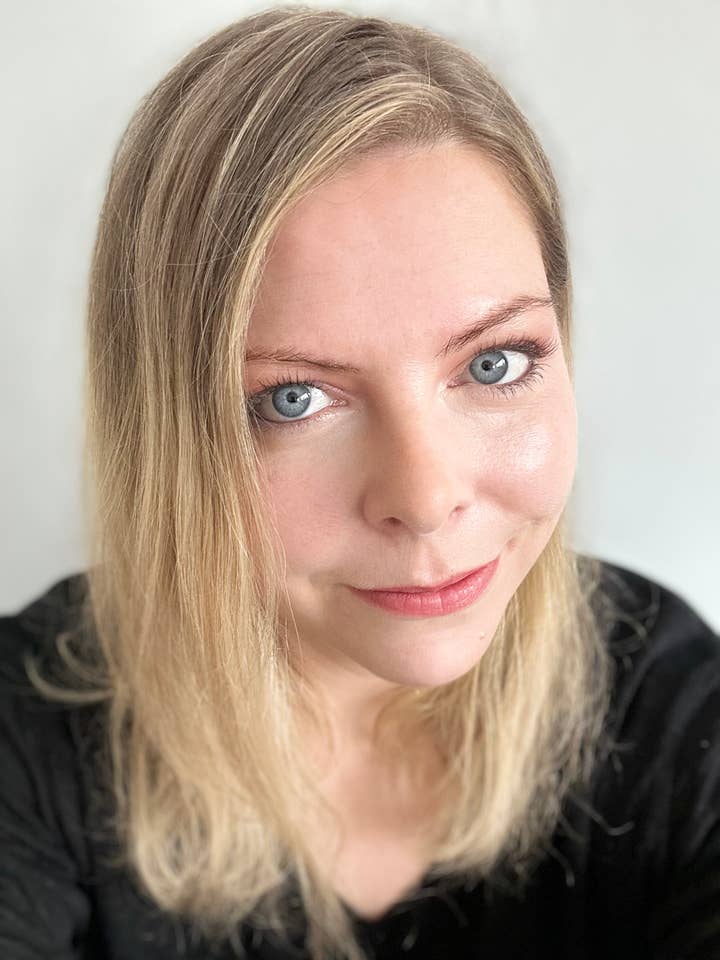 "But you know why? It is in our DNA – and I speak for the whole team here – that we really want to always want to put the devs and the game in focus. It's less about the Collective. Of course, we're proud of it. But it was intentional, not putting the Collective branding into the focus because we wanted the games and the teams behind it to be in the focus. That continues to be the case."
It's commendable, but putting the devs into focus doesn't have to mean fading into the background entirely. And now Square Enix Collective is eager to let us know what it's up to, and to introduce the world to its new leader.
Edvi isn't new to the Collective. She's spent over seven years at Square Enix, with most of that time working on indie games in various brand and marketing roles.
And she's a games marketing veteran. Edvi began her games career at various Hungarian studios in marketing positions, including at Digital Reality. She has worked for agencies that supported Xbox and Nintendo's marketing and PR efforts across Eastern Europe, including working on the launches of Wii, 3DS and Wii U. Then it was a move to Spain and a stint at Gameloft, supporting the promotion of popular smartphone titles such as Despicable Me: Minion Rush. All before Square Enix came calling.
"I always felt like I could have become a marketing director or a brand director, or something like that," Edvi explains of her move away from pure marketing. "But I was always interested in making the games, not just marketing them.
"Phil and I worked closely on finding, marketing and publishing the games, together with the whole team. I was always a part of it. When this opportunity came about, I was like: 'I can do this, I want to do this'. My marketing background also helps, because when we speak to indie teams about what they need from us… one of those things is always marketing support and how they can stand out.
"We really want to attract and engage diverse teams. I personally would like to make games with more diverse characters"
"Sometimes I put my marketing hat on, and go: 'OK, this is a great idea. I would play it. But is there a market for it?' When we look at games, the first thing we ask is can they actually make it? Or is it just something they wish they could? The second thing is how can we sell it and obviously make profits for them and ourselves? Sometimes you see a great game, but it feels out of touch or out of time. We try to give this feedback to them if that is the case."
Square Enix has gone through a substantial change over the past year, particularly in the West with the sale of its major Western studios and IP, including Crystal Dynamics and Tomb Raider. But Edvi says that's had no impact on the Collective.
"Our day to day hasn't changed," she tells us. "Actually, we worked with Crystal Dynamics on Tomb Raider-themed DLC for PowerWash Simulator. And it was just like when they were part of the company. They supported it a lot, not just with the development, but the comms, too."
The last time we spoke to the Collective, which was admittedly a long time ago, it was offering up some of the old Eidos IP for indie developers to play with. This resulted in the 2018 release of Fear Effect Sedna. But with those IPs now at Embracer, that's no longer possible. Edvi explains that the Collective moved beyond that idea long ago.
"In the beginning, we explored a lot of avenues. The core of the Collective is how we can work and support this community of indie developers and people who love playing those games. Second, it's how can we not just to react, but also go with the flow of the changes of the industry. As you know, things are a lot faster within the indie games sphere, because games don't typically take as long to make.
"The third thing is that how can we find and support teams who are interested in making those games at different levels – student teams, more experienced teams, industry veterans who leave their jobs at big publishers and come together. We have explored all of these avenues.
"We've come far from that original idea of 'here are these IPs you can use'. We used to have it so the community voted on what we'd support. We worked on Kickstarter when that was a big accelerator for games back then, too.
"Now we've landed on this strategy of focusing on teams, building relationships and helping them make, publish and market their games. PowerWash is the manifestation of all these learnings and the years of evolution. But we're not stopping. We can't really have a strategy and stick to it, because that's not how the industry works for indies. We need to keep changing and learning and looking for new ways to support these teams."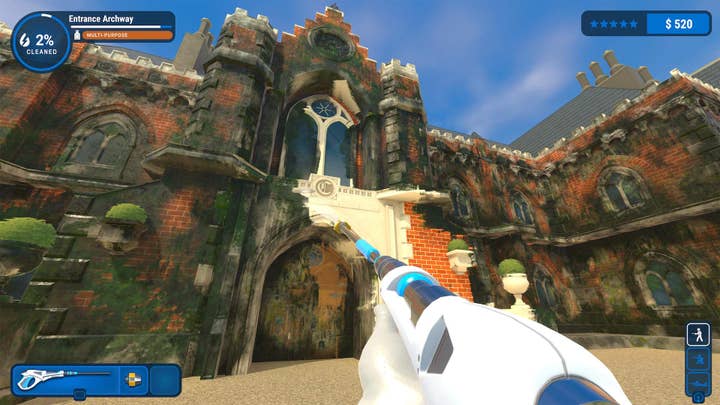 That does mean Square Enix Collective looks a little like all the other indie publishing labels out there. So what exactly makes it different?
"Square Enix really supports us in terms of marketing and funding," Edvi explains. "Square Enix likes having this indie-focused part of its business, because we're providing them with unique games you wouldn't expect from Square, like PowerWash."
Edvi mentions PowerWash Simulator a lot, and that's understandable considering its current popularity. But she's keen to stress this is really Futurlab's success.
"Its [success] really comes from the community [Futurlab] has built. It's Kirsty [Rigden] and James [Marsden] and their marketing team, their community manager, their Discord... that's where I trace everything back to – that engagement and connection with the community. People see this game as their happy place where they come to relax. We managed to engage a lot of influencers who felt the same and showed it to their audiences. And it really built on that.
"There was a lot of learning and collaborating on the production process. It was a back and forth – them giving us feedback, us giving them feedback. For me, the success was helping them to do better, plus the marketing with the Square Enix powerhouse behind us."
The next game for Square Enix Collective is Little Goody Two Shoes, which is due later in the year. And the company is looking for what comes next.
"We always look for unique games that you wouldn't expect from Square Enix."
"We're looking for all kinds of games for all corners of the world," Edvi says. "We always look for unique games that you wouldn't expect from Square Enix."
So does that mean JRPGs aren't of interest?
"Probably not," she admits. "But… I don't want to scare away any teams who are making JRPGs. Because even a JRPG could work if it's different enough."
Indeed, Edvi says it's as much about the team as the project.
"We really want to attract and engage diverse teams. I personally would like to make games with more diverse characters. But it does not necessarily have to be a character. There are no characters in PowerWash Simulator, for instance, but it's a very inclusive game because anyone can play it. That's what I hope we can go towards."
It's tough out there for certain video games right now, particularly within the indie scene, as people are more mindful about what they spend in the current economic climate. But Edvi remains positive.
"We do have that safety net of being part of Square Enix," she explains. "We are very lucky to have that support, financially as well as all the rest of it. But at the same time, it is very tough out there. Wallets are smaller and games are a luxury item. We saw this back in 2008 as well with the financial crisis. I lost my job back then, alongside a lot of people, because the whole business was in a tough place."
She concludes: "But… a lot of people go to games to escape. And there are a lot of people who are tired of playing the same old games over and over. That's what we can bring. Obviously, we need to look at prices, how can we make pricing more accessible, and how can we bring enough content to make it valuable for gamers when [they're making their buying decisions]. It's very hard to stand out because there are a lot of great games out there, especially in indie. But I try to see it as an opportunity, and really empower our teams to see it that way, too."
Sign up for the GI Daily here to get the biggest news straight to your inbox