There is a mix of link building and content marketing that can be used to drive product page rankings.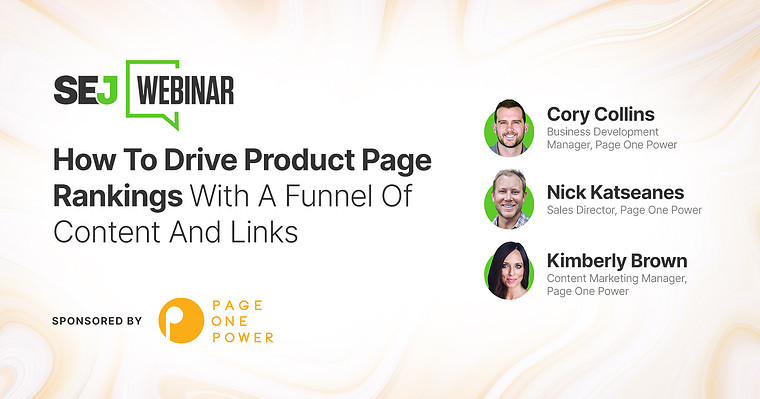 What is going to move the needle for your company and make a real impact is what your success metrics are.

Which strategies can you use to reach your goals?

You need a full funnel approach to succeed in competitive markets.

You can affect the rankings of key product pages with the right mix of link building and content creation.
6-Step Process For Boosting Product Page Ranks
Adding these 6 steps will help boost your rankings.
Review the product page(s) for link opportunities.
Audit existing content and ensure topical relevance to the product page with strategic internal links.
Identify high-intent keywords, a.k.a. your new content opportunity, for the product page.
Discover linkable topics with a tie-in to the product page, but make sure they are broad and useful enough to not be advertorial.
Create content based on findings, and build external links to the broader topic, with strategic internal links to the high-intent keyword content and product pages.
Measure the impact on the primary product page against the keyword ranking KPIs initially identified. Monitor rankings, traffic, and links across the entire funnel as additional KPIs.
We wouldn't leave you hanging without more information.

To learn how to do these steps, join our upcoming webinars.

Join Page One Power's business development manager and sales director as they show you how a funnel of links and content can lead to better results in your search campaigns.

Link building and content creation can be combined to drive product page rankings.

There are key things to know.
Learn how to grow product page rankings after technical SEO and on-page optimization are completed.
Understand how content marketing and link building strategically tie back into product-level SEO KPIs.
Gain insight into the difference between high-intent keyword content and linkable content, and how to use the two together.
Can't attend the live event? You will get the recording and resources after the event if you sign up.