Content LA has added another 10 speakers to its line up for its May 18-19 event at the Fairmont Century Plaza. Content LA brings together the US and International businesses to develop new partnerships.
You can find more information about Earlybird registration rates by clicking here.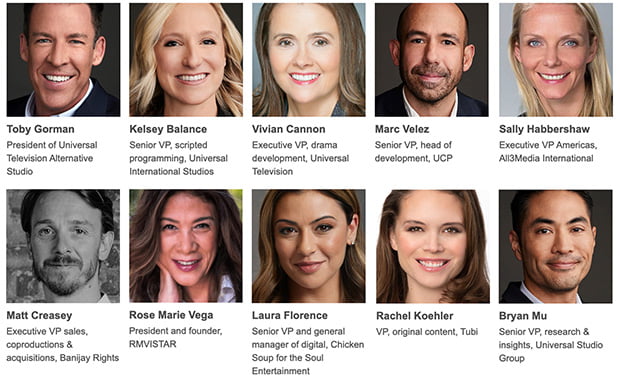 In a series of one-on-one conversations and panel discussions these top executives will discuss content strategies and future visions across both scripted and unscripted, look to the future of FAST and growing trends and opportunities around international coproduction.
At Content LA, speaking.
Toby Gorman President

Universal Television Alternative Studio
Gorman is president of Universal Television Alternative Studio (UTAS), a division of Universal Studio Group. The studio develops and produces game shows, competition programs, true crime, documentaries and docuseries. Gorman has oversight over all aspects of the studio, including development, production, business and creative affairs.
A new true crime docu-series from Dick Wolf, Blood, as well as That's My Jam, hosted by Jimmy Fallon, Baking It, hosted by Amy Poehler and Maya Rudolph, and The Gentle Art of Swedish Death Cleaning, produced by Amy Poehler and Scout productions, are among Hollywood Game Night, The Wall, and That's My Jam are all hit formats that have been replicated worldwide.
The Americas is a 10-part natural history show, Surviving Earth is a documentary series that recreates critical mass extinctions in Earth's history, and LA Fire & Rescue is Dick Wolf's first show.
He was the interim CEO ofMagical Elves.
Kelsey Balance Senior VP, scripted programming

Universal International Studios
Balance is SVP, scripted programming, Universal International Studios, a division of Universal Studio Group. In this role, Balance is charged with building on the studio's track record of creating premium scripted content with global appeal and developing series with emerging and diverse voices. She reports to Beatrice Springborn, president, Universal International Studios.
Safe Harbour, We Are Lady Parts, The Capture, Stateless, Clickbait, Everything I Know About Love, Dodger, Transplant and The Undeclared War are just a few of the scripted shows that Balance oversees. She covered the studio's exclusive talent deals.
Balance was head of programming at NBCUniversal's comedy streaming venture Seeso, where she oversaw all originals, acquisitions and co-productions. She was at Participant Media where she worked on award-winning projects.
Vivian Cannon Executive VP, drama development

Universal Television
Cannon is EVP, drama development, Universal Television, a division of Universal Studio Group. In this role, she is responsible for the studio's drama series development across broadcast, cable, streaming and digital platforms. She reports to Erin Underhill, president, Universal Television.
Cannon has been a driving force behind the development of many critically acclaimed and commercially successful drama series.
She joined Universal Television as a senior vice president in the drama development department. Cannon produced pilots and series for a number of platforms before that. She was an executive producer on the show. The Big C won an award.
Marc Velez Senior VP, head of development

UCP
Velez is SVP, head of development for UCP, a division of Universal Studio Group. In this role, he is responsible for the studio's series development across all platforms. He reports to Beatrice Springborn, president, UCP.
The Umbrella Academy, Candy, Gaslit, Dr Death, The Girl From Plainville, Queer as Folk, Chucky and Resident Alien are some of the award-winning programming that Velez oversees. He works closely with many of the studio's talent.
Velez was president of Lee Daniels Entertainment, where he developed and executive produced ABC's Wonder Years, Fox's Our Kind of People, and the Sammy Davis Jr limited series for Hulu. The Lee Daniels Inclusion Fund supported up- and-coming diverse voices.
At Imagine Television, Velez worked on Empire and Arrested Development.
Sally Habbershaw Executive VP Americas

All3Media International
Before being appointed as EVP of sales and co-production for the Americas, Habbershaw was most recently VP of international programming, operations and research at A&E Networks. Here she was responsible for developing strategies for ownership, maximising the exploitation of content across branded and third-party platforms, development of original programming and coproductions and driving global channel and SVoD performance.
After graduating from the London School of Economics, Habbershaw worked at NBC Europe and was head of programming at Comedy Central in London. Habbershaw moved to New York in 2004 to become director of development at VH1, but left in 2009 to work at AMC Networks. She was the VP of acquisitions, scheduling and promotions at AMC Networks.
Matt Creasey Executive VP sales, coproductions and acquisitions

Banijay Rights

Creasey was appointed EVP, sales, coproductions and acquisitions, at Banijay Rights in August 2020.
Based in Los Angeles, Creasey oversees all sales operations and teams for territories outside EMEA. Exploring opportunities across linear, SVoD and AVoD, he also leads on scripted coproductions in the US and rest of the world, alongside sales and acquisitions. Creasey joined the company following Banijay Rights' acquisition of Endemol Shine Group, having previously served as EVP, sales and acquisitions for sales arm Endemol Shine International.
He is in charge of the company's extensive multi-genre catalog of over 150,000 hours of stand out programming.
With an extensive client base, cross-platform sales experience, unparalleled knowledge of the catalogue and extensive commercial wisdom, Creasey works closely with the leadership team of Banijay Rights to set the strategy and grow the business.
He joined Endemol Shine International in 2006 as director of sales, distribution and has since sold and exploited some of the world's largest entertainment brands. Prior to his time at Endemol Shine International, he was the head of sales at a different company.
Rose Marie Vega President and founderRMVistar
Vega has been widely recognised for working at and with many of the industry's leading studios and content platforms. Start with her Latina heritage and California roots, mix in experiences she gained from living in New York, Paris, Mexico and Los Angeles and you begin to grasp the multi-cultural flavour that influences the multilingual Vega's business approach.
Warner Media bought the format rights for Jaque Content's hit Argentinian crime series La Chica que Limpia and a Fox Network series production of The Cleaning Lady, both of which were to be produced in the US.
Laura Florence President and founder

RMVistar
Florence joined Redbox in 2019 to lead the company's digital content partnerships and acquisitions team in the launch of FAST Channels and the ad-supported on-demand platform. In 2021, she was promoted to VP content strategy, merchandising and programming handling all content strategy and merchandising for kiosk, transactional, FAST, ad-supported and Redbox Original content, and programming of Redbox Linear Channels.
Florence has been in the entertainment industry for over 15 years and has experience in both the physical and digital categories. She has partnerships with some of the biggest retailers in the industry.
More than 30 independent studios have been represented by Florence. Florence ran theatrical, TVoD/cable/sat, home entertainment and ad-supported/FAST before she joined Redbox. She worked at the cable company. There are networks on live events and programming surrounding the Academy Awards. Comic-Con and Star Wars 30 for G4 are covered in a true Hollywood story.
Rachel Koehler VP, original content

Tubi
As VP, original content, Koehler brings a holistic and creative approach to Tubi's content strategy, leveraging a wide range of industry experience and expertise across programming development, content acquisitions and digital sales. With a keen eye for splashy and breakthrough content, Koehler most recently helped lead Tubi's debut into original content, playing an active part in developing more than 140 hours of Tubi Originals in 2021 alone.
She has shepherded premium independent minded titles across the Black cinema, thriller, horror, sci-fi, romance and Western genres. SWIM starring Joey Lawrence, The Freak Brothers starring Woody Harrelson, Pete Davidson, John Goodman, and Tiffany Haddish are some of the Tubi Original movies that have recently been released.
Tubi formed partnerships with major studios and brands, including Samuel Goldwyn, LEGO, FilmRise and Magnolia, as a result of the work done by Koehler. The Edge of Seventeen, starring Hailee Steinfeld and Woody Harrelson, is one of the fan favorites that Tubi secured a free streaming window for. Tubi was the exclusive home of the adventure documentary Into the Lost Desert.
Tubi secured the company's first-ever presence at the festivals of Berlin and Sundance.
Before Tubi, he managed content acquisitions.
Bryan Mu Senior VP, research & insights

Universal Studio Group
Mu is SVP, research and insights, Universal Studio Group (USG). In this role, Mu serves as the lead research and analytics executive responsible for global marketplace analysis, strategic planning, and audience insights for Universal Studio Group. He reports to Pearlena Igbokwe, chairman, USG.
Mu was the Senior Vice President, Content and Cultural Insights, NBCUniversal Cable Entertainment and Studios, where he oversaw research for NBCUniversal's cable entertainment content portfolio. USA's Mr Robot and The Sinner, Resident Alien and The Umbrella Academy were some of the series he contributed to.
Mu worked for Sony Pictures Television before joining NBCUniversal. He consulted executive producers on ratings performance, competitive positioning and marketing activity for their shows.
Click here if you want to register for the early bird rate.
They areConfirmed speakers.
There will be a lot of speakers and sessions soon.
Content LA is moving in with LA Screenings Independents at the Century Plaza. There will be 2000 delegates at the two events.