The public reaction to Gloria's death was shocking. The South African jazz vocalist, composer and teacher was 50 years old.
She had just released her first album in 12 years, Live, and was about to embark on a promotional tour.
She had served as a mentor and role model to a whole generation of singers.
South African female vocalists were stereotyped on stage about their singing style, lyrics and overall demeanor. She supported new generations to follow in her footsteps.
Early career
A scholarship to the Tshwane University of Technology was given to her by her appearance in a 1993 Market Theatre musical drama. She was an early mentor to the late South African vocalist. She was a performer by the time she graduated.
She had a low key stage persona. She was often barefoot on intimate stages such as that of the Bassline club in South Africa, where she questioned the stereotypes of female vocalists as pop divas. She used the minimum of staging to make audiences focus on her vocal power, timing and command over material. She wrote or co- wrote many of her own songs.
The songs of other people were always covered by the man. They were always more thancovers. Jazz singers do the same things. Alan Silinga's Ntyilo Ntyilo and Alpheus Nkosi's Lizzy are examples of historic songs from the South African repertoire that were used to acknowledge and revisit a tradition that strongly informed her own style.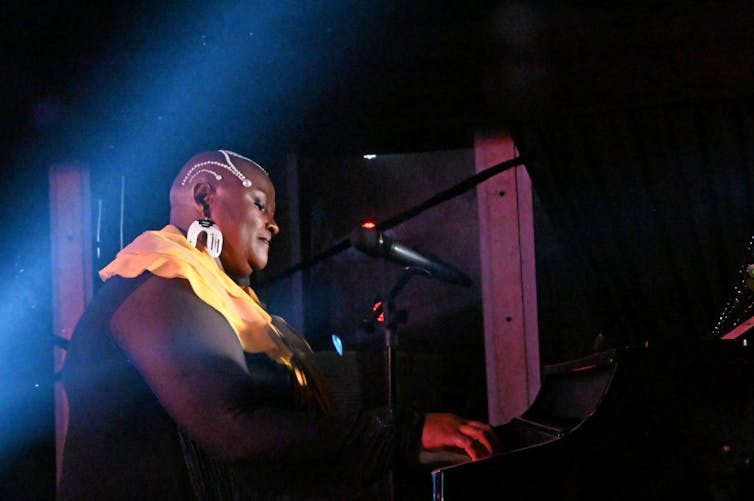 She chose her songs because they allowed her to stretch her voice and conception in new and intriguing ways. Her technical understanding allowed her to bring a variety of vocal sounds, including bird-chirps, cat- growls and more.
Trailblazer
The post-liberation renaissance of original South African jazz was started by the first generation of players who recorded on the South African Sheer Sound label.
Her debut album was co-produced with pianist Paul Hanmer and featured a number of musicians. It was pan-African and innovative enough to be heard frequently on pop music radio.
The Many Faces of Gloria Bosman, Stop and Think, Nature Dances, Emzini, and Letters from the Heart all came after. She always reached out to new and exciting musical names, such as rising bassist Dalisu Ndlazi, when she was a producer.
Finding her feet again
She explained that the hiatus in recordings was due to the deeper changes in the South African music industry.
Independent musicians are now carrying their own costs of recording, distribution and marketing as physical products like CDs are no longer used.
But we come from the era of record labels. It all became a long process of finding one's footing as an independent artist and learning how to run your business. It gets tricky when the recording bill is your responsibility and you still have to keep food on the table … I watched and learned from the young ones; their courage gave me flight.
More than a jazz singer
When the club scene went through dry periods, he put together a patchwork of music to keep food on the table, as well as teaching and other non performing roles. She varied across genres. Structural industry changes were only one of many challenges.
She always thought of herself as a jazz singer, but she realized that the term "inclusive" meant more than that. She used her extended vocal technique whenever it felt right, something that didn't always meet the expectations of show bookers. She had to stop her creativity sometimes.
Like many female performers, she fought back against her image's backward perception. When the Emzini album cover shoot put her in heels, one headline heralded, not new music, but, " Gloria shows her legs."
Overcoming tough times
Economic and emotional times were hard because of that. She sang on the song Uzowozw'umoya.
I've been up, I've been down. Out in the cold, out in the rain. I'd go out, to the rain, so that no-one can see my tears.
She was able to work it out. When we spoke at the time of Nature Dances in 2003 she made it clear that nothing was more important than protecting her young daughter from what she considered to benonsense in the media. On that album there is a powerful version of God Bless the Child.
Read more: The deep humanity of Sibongile Khumalo, South Africa's iconic vocalist – and mentor
She grew a powerful stage presence over the years, on full display in Live. Her final album was intended to make that clear. She wants people to know how special it is to be part of a live show again.
The memorial service paid tribute to how she helped others. She always posed the question of the lyrics to her 2001 album Why Not? Who makes the rules is how brave you can be. This is a translation of a proverb from her song Remembering Thami Mnyele.
People may die leaving only memories, but their loss need not be in vain, because they pave the way forward for the living.
At the author's website, you can listen to Gloria's music.