Marketing 157 will be on March 16th, 2023.
The canvas doesn't work in your browser.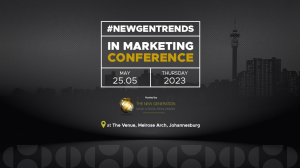 The awards say that for the second year running, it has welcomed back Wunderman Thompson South Africa and Flume Digital Marketing as its latest event sponsors in 2023. 2023's keynotes examine, analyse and break down 'radar-worthy trends' to help individuals improve how they market and communicate in this new and constantly evolving era.Individuals can join like-minded marketers for a day of:
top insights
leading trends, and
innovative solutions.
The 
New Generation Awards
gives eight key reasons to attend 2023's conference:
'#NewGenTrends' caters to the entire marketing ecosystem, brands, tech, digital, media and agencies to culture.
You can learn in-depth knowledge on the trends that are making waves right now and how they can help transform your marketing approach.
You will gain vital insights into what is crucial to staying competitive throughout 2023 and 2024.
The '#NewGenTrends' features content dedicated to solving unprecedented challenges for the entire marketing and media community.
Attend '#NewGenTrends' and transform your brand, career and industries by taking action rather than just reacting to the advances of digital marketing.
Network with your peers and stay current with the latest tools and strategies that marketers can apply in their everyday marketing efforts. The very tools that have helped our speakers to elevate their brands and clients and grow business revenues that go beyond the brief.
'#NewGenTrends' gives you access to experts who have tons of experience and proven results across several different digital and traditional niches.
You can join hundreds of like-minded marketers for a day of top marketing insights, leading trends and innovative solutions.
07:30 

Arrival time
MC — Jon Gericke, radio presenter and director, Pint Size Media
7:30
-
8:30 
Registration (tea, coffee, juice and breakfast snacks served)
8:30
-
8:35 
8:35
-
8:40 
Wunderman Thompson South Africa (Event sponsors)
8:40 - 9:25 
Joint session: Michael Oelschig, managing director from Wunderman Thompson SA, and Aluwani Raswiswi, chief technology officer, Wunderman Thompson SA.
Topic: Finding the sweet spot between Creative, Data, Technology and Commerce
9:25 - 10:10 
Toby Shapshak, TED Global speaker, Forbes senior contributor, publisher of Stuff Studios + Scrolla.Africa, Financial Mail + Daily Maverick columnist
Topic: Why Google and Facebook are useless (and evil) and why you should never use them again.
10:10 - 10:30 
Tea Break — tea, coffee, juice, pita pockets and doughnuts
10:30 - 10:35 
Flume Digital Marketing — event sponsors
10:35 - 11:20 
Jacques Du Bruyn, managing director, Flume Digital Marketing.
Topic: How Technology is Changing the Face of Digital Marketing
11:20 - 12:05 
Sadika Fakir, integrated media and digital director, Tiger Brands
Topic: Driving Integrated Channel Strategy: The process, tools, systems, partners and behaviors that are required
12:05 - 12:30 
12:30 - 13:15 
Full Buffet — Lunch and Desserts
13:15 - 14:00 
Gareth Cliff, president, CliffCentral.com 
Topic: The Power of Podcasting
14:00 - 14:45 
Lana Strydom, executive head of digital, content and social marketing, Vodacom.
Topic: Evolution of the Internet and the impact on Brands
14:45 -15:00 
Tea Break — tea, coffee, juice, scones and cupcakes
15:00 - 15:45 
Vincent Maher, group executive head of digital, MultiChoice Group
Topic: Incubating capabilities that create future value and optionality: Marketing automation, audience platforms, and other new technologies.
15:45 - 16:30 
Joint session: Kabelo Moshapalo, chief creative officer, Ogilvy and Nduduzo Donsa, head of strategy, Ogilvy
Topic: Impact powered by culture, diversity and tech
16:30 - 17:00 
Panel discussion — Networking / End of conference
Ambitious marketers, who are interested to elevate their mindsets, and expanding their knowledge and expertise, while staying at the fore within their industries. This conference is a must-attend for:
marketers from the corporate, agency and government sectors
brand managers
corporate communication managers
customer experience managers
social media managers
digital marketing managers
creative directors
business professionals
C-Suite executives
content creators
strategists
storytellers
transformation teams, and
influencers.
Individuals can book and pay before the end of March and receive the 'Early Bird Rate'.
The Newgen Awards can be found at www.newgenawards.co.za. New Generation Awards can be followed on social media.
Digital media awards in South Africa are part of a marketing conference.
Rate this article as Short, Tall or Grande.
1