Imagine you're anentrepreneur with a startup that's starting to establish roots. Building a name for yourself through social media, networking events, trade shows, and support for community organizations is one of the ways you are growing your marketing efforts. The right time to expand your audience is now because your company has built its brand in the most cost-effective way possible. It could be the year you start a small business show. How do you get started?
Between managing your small business operations and the usual responsibilities of daily life, podcasting may seem like an unambitious project. What can appear to be just casual conversations between host and guest may actually require many hours spent scheduling, researching, preparing and producing content.
According to a study done by i More.com, out of the 2 million titles on the internet, less than one-third were fulfilled by entrepreneurs.
Small business owners who continue to produce episodes can reap the rewards of increased brand recognition, improved credibility as subject matter experts, new and expanded audiences, and telling a more engaging brand story by moving beyond other, more traditional channels.
The baseline of a clearly articulated vision and purpose should be the starting point for Madison's podcasting.
Before you go into it, you should ask yourself what motivates you to do it. Is it my job to help people? It will be easy to keep going if you know you can accomplish that goal.
The "How to Business" podcast is cohosted by Sarah Mattson and Josh Brown, as well as their executive director, Lynn Chesnutt.
The TSBDC is part of a national network of small business development centers. The BDC is located in Hamilton County and they are able to serve all small businesses in the region.
"How to Business" was launched during the peak of the COVID-19 epidemic, when in-person meetings were not possible. Creating a rich library of content was their goal.
The first season of their show ran 35 to 45 minutes per episode. Business interests like e-commerce, food and beverage trends, bookkeeping, networking tips, and anything they thought entrepreneurs might need to help grow their companies are some of the topics discussed on the show.
It is making a difference for our clients that they are getting actionable insights from these episodes. Our goal was for our clients to learn from the conversation and use it in their business immediately.
"How to Business" generated 5,000 listens in its first year, thanks to a grassroots marketing effort that used the BDC's social media network and other word-of-mouth partnerships. The Enterprise Center, The Johnson Group, Chatt365, and Local Venture Legal are just a few of the companies that have given advice to the show.
We always have plenty of resources we can share with clients when they ask about what's happening in the food and beverage industry or how to increase sales through social media. If we're not the subject-matter experts for a given area, we can find someone who is.
In order to record their second season, McCann was able to purchase in-house production equipment which she now operates out of a soundproof studio inside the BDC. The initial investment of $6,000 was made with the help of the Shure SM7B Broadcasting microphones, Audio-Technica ATH-M20x headphones, and a RODECaster Pro II mixer.
The team aims to grow their audience over time with access to their own studio. A more modest approach is recommended for entrepreneurs just starting out. Patrons of the Downtown Public Library can use the studio for free. A starter set of personal equipment can be purchased for less than $1,000.
The first episode of "How to Business" required a second take due to the upfront costs for equipment. The first episode is usually a learning opportunity for getting the hang of best practices.
You will have to listen. I like to listen to a lot of different kinds of podcasts. She says that this will give you ideas for what you'd want your show to be.
The purpose of a podcasts is not to sell product, but to create great content, and that's the main reason for it.
The second season of "How to Business" just wrapped and a third season is underway, and the team continues to receive praise from the audience.
You need a good network of people who will listen to your show and share it with their friends. During times when you feel like you can't keep up, they will help you to stay motivated.
There are many How to Business episodes.
There are seven common business myths.
There are tools for networking.
There are tools for social media management.
The Tennessee Small Business Development Center has more information.
There is a song called "How to Business" here.
Read more
Five Black-owned businesses are celebrated by the Chamber of Commerce.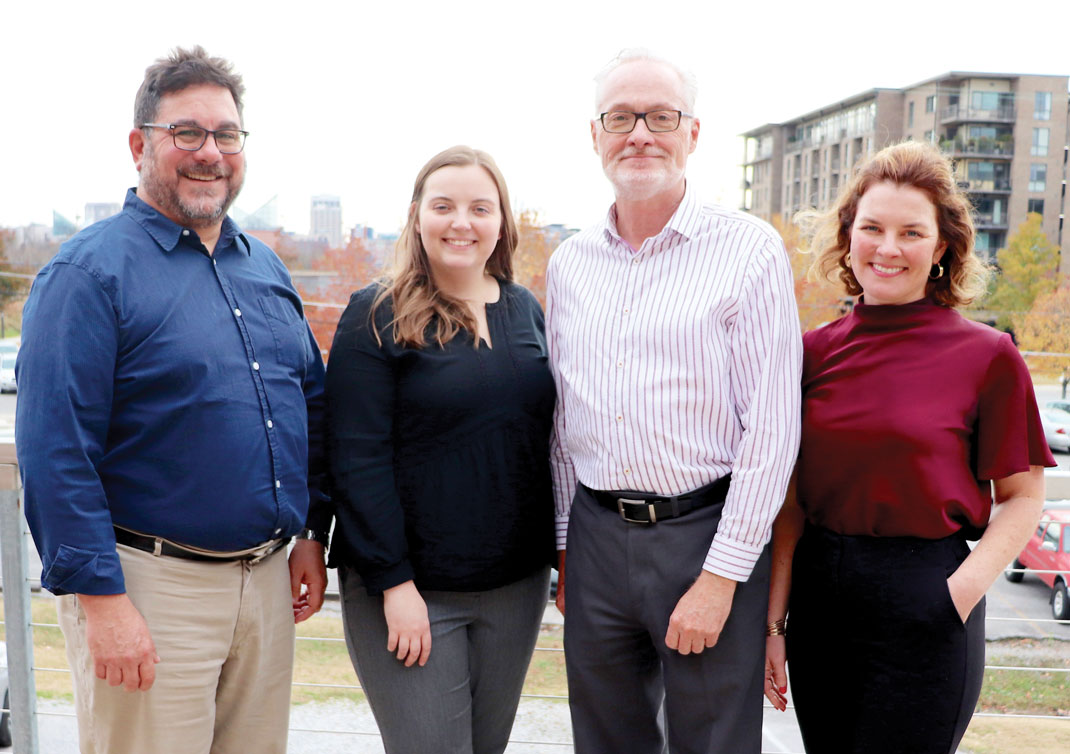 Photography by Abdiel Vallejo-Lopez / From left to right: Josh Brown, Madison McCann, Lynn Chesnutt, and Sarah Mattson at the Tennessee Small Business Development Center.